---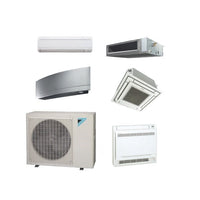 Model: 3MXL24RMVJUA
Daikin MXL AURORA Series Multi Zone Mini Split Heat Pump Inverter Outdoor Unit
The Heat Pump Condenser is the outdoor unit in a Heat Pump System. Mini Split Heat Pumps provide heating and cooling for systems. This Daikin 3 Zone Heat Pump Condenser can be combined with 2 or 3 Indoor Units.

Daikins Multi-Zone Systems are ideal for multi room applications desiring individual room comfort in a space saving design. Over 1,000 combinations are possible with the choice of Ductless Wall Mount units, Ducted units, Ductless Ceiling Cassette units, Ductless Floor mounts or a mix and match combination. Suitable for both new build and renovation projects, Daikin Multi-Split Systems are the smart, reliable solution for your home.
Living in colder climates doesnt mean a heat pump isnt a viable option to heat each space in your home or business, nor does living in warmer climates preclude the use of a heat pump as a viable option for cooling. The outdoor units of this Multi-Zone Daikin AURORA heat pump system have been redesigned to withstand extreme weather conditions, even when it is down to -13°F WB (-25°C WB) or up to 115°F DB (46°C DB) for year round comfort.
Ideal Solution For:
Basements
Multiple zones
New construction
Hot or cold rooms
Rooms with poor air flow
Renovations and remodeling
Basements, attics and garages

Entire homes or floors of homes
Primary living areas (master bedrooms and living rooms)
Standard Features:
Quiet operation

Space-saving design

Heating Range -13° to 60°F

Cooling Range 14° to 115°F

Quick and easy installation

Up to 130% connection ratio

Mix and match indoor unit flexibility

Fully optimized for R-410A refrigerant

Anti-Corrosion Treatment on Heat Exchanger

Advanced Filtration Long life, washable filters

Precision temperature control for individual rooms

World renowned Daikin Inverter "Variable-Speed" compressor technology

Enhanced Capacity Delivers up to 100% rated cooling capacity at 115°F DB (46°C DB)

Multi-Zone comfort: One outdoor unit connects multiple fan coils individually controlled

Quick Warming Function Preheats the compressor to shorten the time required to discharge warm air

Outdoor Unit Quiet Operation can reduce sound levels by 3dB for times when quieter operation is needed.

Delivers up to 80% higher cooling capacity at 115°F DB (46°C DB) when compared to a standard multi system

Outdoor Unit Quiet Operation Outdoor unit sound levels can be reduced by 3dB for times when quieter operation is needed

Automatic Defrosting Sensor performs automatic defrosting of the outdoor heat exchanger if necessary, ensuring optimum heating performance

Daikin AURORA heat pump for extreme weather conditions Up to 100% rated heating capacity at 5°F WB (-15°C WB) and confirmed continuous operation, as low as -13°F WB (-25°C WB) ambient temperature

Auto-Restart mode allows the unit to memorize the operation mode, airflow and temperature settings. Should there be a power failure when the unit is in operation, it will automatically return to the same operating conditions when the power is restored