---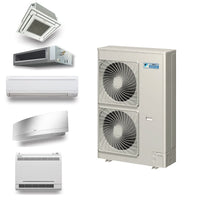 Model: RMXS48LVJU
Daikin MXS Series Multi Zone Mini Split Heat Pump Inverter Outdoor Unit
The Heat Pump Condenser is the outdoor unit in a Heat Pump System. Mini Split Heat Pumps provide heating and cooling for systems. This Daikin 8 Zone Heat Pump Condenser can be combined with 2, 3, 4, 5, 6, 7 or 8 Indoor Units.

Daikins Multi-Zone Systems are ideal for multi room applications desiring individual room comfort in a space saving design. Over 1,000 combinations are possible with the choice of Ductless Wall Mount units, Ducted units, Ceiling Cassette units, Floor mounts or a mix and match combination. Suitable for both new build and renovation projects, Daikin Multi-Split Systems are the smart, reliable solution for your home.
The 8-Zone Multi-Zone system is the ultimate, flexible solution for individual zone comfort. Connecting up to eight indoor units to a single outdoor unit reduces installation space and costs while maximizing comfort and energy savings. With a choice of six indoor unit types in a wide range of capacities, the 8-Zone Multi-Zone allows mixed and matched combinations for absolute comfort in almost any residential or light commercial application.
Ideal Solution For:
Basements
Multiple zones
New construction
Entire homes or floors of homes
Primary living areas (master bedrooms and living rooms)
Standard Features:
Spacing-saving design

Heating Range 5° - 60°F

Cooling Range 23° - 115°F

Up to 130% connection ratio

Long piping lengths up to 633 ft. total

Anti-Corrosion Treatment on Heat Exchanger

Energy Efficient up to 18.8 SEER, up to 11.3 HSPF, up to 10.3 EER

Multi-Zone comfort: one outdoor unit connects up to eight separate units

More than 60% in physical space savings versus a traditional cube style outdoor unit

More than 80% in total (including clearances) space savings versus a traditional cube style outdoor unit

Quick Warming Function Prevents the compressor from pumping liquid refrigerant in low-ambient conditions.

Outdoor Unit Quiet Operation Outdoor unit sound levels can be reduced by 3dB for times when quieter operation is needed.

Automatic Defrosting Sensor performs automatic defrosting of the outdoor heat exchanger if necessary, ensuring optimum heating performance.

Longer refrigerant piping capabilities offers much more flexibility in the choice of installation positions for the indoor units, and greatly simplifies system layout.