---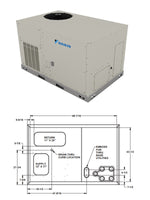 Sale
DFC0603D000001S
On Sale $5,173.00 For Sale $7,501.00
Add this product to cart for ADDITIONAL SAVINGS!
Model: DFC0603D000001S
DFC Daikin Rooftop Unit Specification Sheet Click Here
Daikin Multi Position Package Unit air conditioners sit on the ground or can be used as a rooftop package unit. HVAC Packaged Unit also known as a self contained air conditioner has the ac condenser, evaporator coil and blower all in one unit placed outside your home. An electric heater kit can be added to provide axillary heat.