---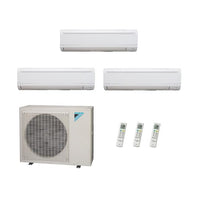 4MXS36RMVJUA - CTXS07LVJU - FTXS18LVJU - FTXS18LVJU
For Sale $4,518.00
Add this product to cart for ADDITIONAL SAVINGS!
Model: 4MXS36RMVJUA - CTXS07LVJU - FTXS18LVJU - FTXS18LVJU
Daikin MXS Series Multi Zone Outdoor Unit
The Daikin Multi-Zone System is a flexible solution for individual zone comfort. Connecting up to 5 indoor units to a single outdoor unit, without the use of branch provider (BP) boxes, reduces installation space and costs while maximizing comfort and energy savings. With a choice of six indoor unit types in a wide range of capacities, Daikin Multi-Zone Systems allow mixed and matched combinations.

Standard Features:
Quiet operation

Space-saving design

Heating Range 5° - 60°F

Cooling Range 14° - 115°F

Quick and easy installation

Up to 130% connection ratio

Mix and match indoor unit flexibility

Fully optimized for R-410A refrigerant

Precision temperature control for individual rooms

World renowned Daikin Inverter "Variable-Speed" compressor technology

Multi-Zone comfort: One outdoor unit connects multiple fan coils individually controlled

Energy Efficient €" Up to 20.2 SEER, up to 12.5 HSPF, up to 12.7 EER €" Variable-Speed, Inverter, Compressor

Intelligent Defrost Mode*: The outdoor unit will enable this mode to help prevent frost/ice from building up in cold climate conditions. It will also help with longer heating operation time for additional comfort for occupants
*** View Documents ***
MXS Spec Sheet "Download Here"