---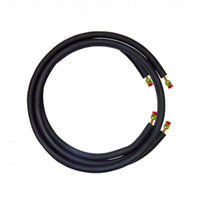 Mini Split Copper Line Set, With Twin Tube Closed Cell Insulation.
The Copper Line Set transports the refrigerant from the condenser to the air handler. This is a Bolt On Type of Line Set and does not need soldering. This line set is Machine Flared and has universal nuts on all 4 ends. It is suggested to use the nuts provided on the Mini Split by the manufacturer. In that case this line set can be cut and re-flared with the manufacturers nuts.
The line set consist of two semi-flexible copper pipes to connect the outdoor to the indoor evaporator coil. The smaller pipe is called the liquid line. The larger pipe is referred to as the suction line.
Features:
Machined Flared

1/2" Wall Insulation

Excellent Flexibility

Forged Construction

Twin Tube Insulation

410A Approved Flare Nuts

Closed Cell Structure Insulation

Density 4/6 lbs/ft - ASTM D1667

OEM Approved Insulation & Flare Nuts

Water Vapor Permeability - ASTM C355

Excellent UV Weather Resistance - ASTM G23

Ozone Resistance - No cracking - ASTM D1171
For more substantial protection, place in a protective jacket or protective channel. Additional coating, jacketing or placement in a channel is optional. Regardless of insulation composition, it is recommended, at minimum, to coat insulation on exterior applications with 2 coats of ArmaFlex WB Finish.
*** View Documents ***
Mini Split Line Set Spec Sheet "Download Here"